The Return Of The Fairs
A few days ago, the 2022 edition of Interlift closed its doors in Augsburg, Germany, the first to take place after the great pandemic of 2020, whose effects haven't yet disappear, since COVID 19 cannot be considered eradicated. This exhibition, was very particular because it intended to replace the one that should have been held in 2021. It was the first to be held in an even year and although it did not reach the levels of the number of exhibitors and visitors we are used to in normal times, it was attended by several global vertical transport giants such as WECO Elevator Products.
To get a first-hand impression of what happened in Augsburg at the end of last April, we interviewed Sergio Iglesias Pérez, WECO Marketing Coordinator.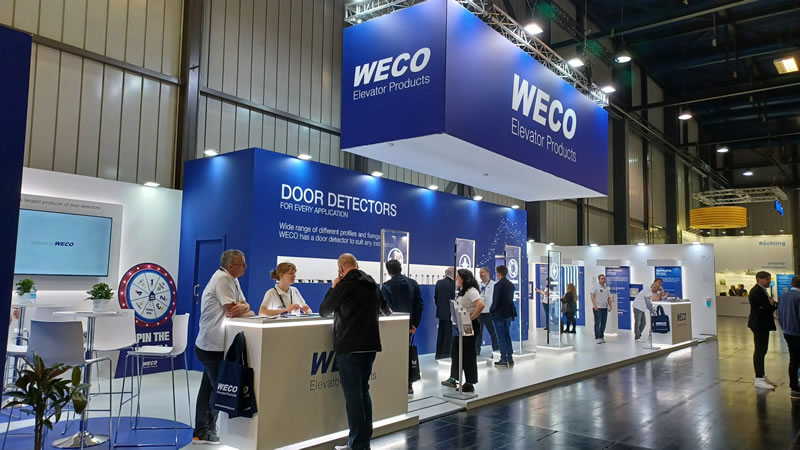 R. del A.: – Sergio, how would you describe the attendance of this last Interlift edition?
Sergio Iglesias Pérez: – There was lower flow of public, compared to previous editions, however, it was very beneficial to participate because we were able to spend more time with visitors. Furthermore, WECO was even more relevant at the fair, as many exhibiting companies, including competitors, decided not to present their stand, confirming WECO's leadership in the market.
¿Were there visits from Latin America?
We were surprised by the attendance of the Latin American public since the expectations for this last edition were quite reserved. A similar or equal amount of the Latin American public passed through our stand than previous editions. Above all, companies from Colombia, Chile, Peru, and El Salvador visited us.
¿Did WECO close many operations?
We were able to hold various meetings and strengthen ties with important clients. At our stand, we present the most outstanding products for the different markets (Europe, Mediterranean Area, Latin America, Asia…) and this year's novelties. At the fair, we are not in charge of selling, but of showing our products and their advantages, of explaining the options that WECO offers in terms of infrastructure and service flexibility. In short, in projecting the value of the WECO brand.
¿Was the balance as expected?
We knew it was going to be a different Interlift. We thought that we would get less out of the event and the truth is that all of us, considering the different WECO subsidiaries, were very satisfied with the result of the fair and with the new and future relationships with our clients.