The national leading company in the elevator industry celebrates half a century incorporating technology and launching new products, while at the same time it keeps growing in the Latin American market.
In an increasingly complex and competitive market, Ascensores Cóndor is consolidating its position as the leading national company in the field of elevators, while at the same time is getting ahead by conquering new customers throughout Latin America in a strongly way. Based in Ituzaingó, a town of the Buenos Aires party, it is celebrating half a century of activity during 2018, incorporating state-of-the-art technology and developing new products, after achieving ISO 9001 certification.
Historically, the firm performed in a range of elevators whose speed reached from 60 to 90 meters per minute. But for almost a decade, the professionals of the electronic engineering department completed the development of high-speed elevators, thanks to an improved control that allows to manage up to 150 meters per minute. "A differential of Ascensores Cóndor is that it has the engineering to build customized products for each client, something that the majority of manufacturers don't do as they are devoted to standarized equipments. On the other hand, we also offer high-speed units, an almost exclusive segment which belonged to the transnational companies. Both, the customized design and the delivery time are another added value, "says Juan Luis Sánchez, managing partner of the family SME, the district's largest employer.
The experience and training of the personnel – some of them working at Cóndor for more than 30 years – are the key to the technological challenges. "The internal know- how is constantly evolving, reaching safe and improved products, many of them born at Ascensores Cóndor. All of them certificated always by the corresponding national
entities ", completes Sanchez. Although the classic cabins are the most demanded, new models have been launched recently by the brand, designed for high-end buildings, units that offer an alternative option to the classic line of stainless steel. While the strength of the business passes through the elevators, Ascensores Cóndor
also manufactures and markets hydraulic vehicles, automated counterbalanced and remote controllable gates, ramps and escalators.
La planta industrial ocupa 15.000m². Allí se desempeñan más de 150 empleados y se fabrica el 80 por ciento de los componentes de los elevadores, lo que facilita encarar nuevas demandas con capacidad para ejecutarlas en tiempo y forma. Las innovaciones son constantes: desde microprocesadores de última generación, variadores de tensión y frecuencia, hasta visores digitales y tecnología accesible para personas con capacidades diferentes. En ese aspecto, la incorporación de un nuevo Centro de Mecanizado manejado por control numérico, una cortadora por chorro de agua y la renovación de punzonadoras por tecnología italiana, cortadoras digitales y otros equipos permiten sostener una entrega superior a los 45 ascensores mensuales.
The industrial plant occupies 15,000m². There work more than 150 employees which manufacture an 80 percent of the components of the complete elevator, which makes it easier to meet with new orders in a timely manner. The innovations are constant: from last generation microprocessors, voltage and frequency inverters to digital viewers and accessible technology for disabled people. In this aspect, the incorporation of a new machining center managed by numerical control, a water jet cutter and the replacement of punching machines by Italian technology, digital cutters and other equipment, allows a delivery of 45 elevators monthly.
"The Machining Center enables us to work on standardized parts that are used mainly in the security system mechanisms such as parachutes, pulleys and a variety of pieces that usually are turned manually, "specifies commercial manager, Pablo Gerez.
In order to comply with the increasingly demanding environmental requirements, the company facilities underwent overhauls in key sectors, such as the construction of new painting areas which could minimize waste.The waist that cannot be avoided is processed by specialists in that field. Likewise, in electric power consumption were
achieved in the internal productive sections and in the manufactured elevators, optimizing its operation by incorporating variable frequency drives. All these are outstanding achievements of Ascensores Cóndor engineers.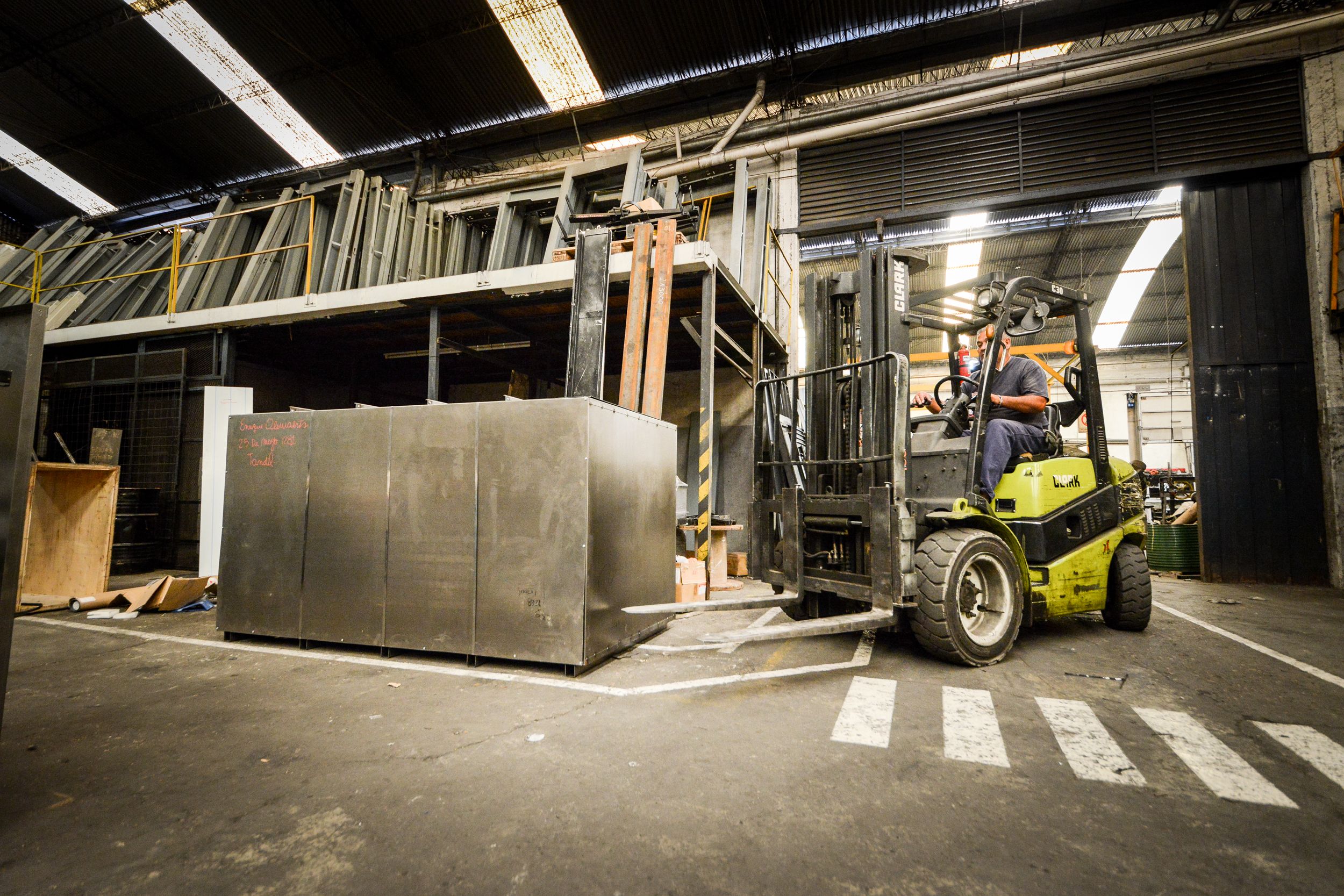 CONDOR IN BRAZIL
During the first days of September, a group of representatives of Ascensores Cóndor travel to attend Expo Elevador held in Sao Paulo, Brazil, the most outstanding event in the field in Latin America. The delegation included the highest authority of the company, Juan Luis Sánchez, its administrative manager, Daniel Barnade and the responsible for the area of ​​purchases and supplies, Luciano Durante. "The balance of our participation was truly very positive. During those days we were able to interact with customers and suppliers, both from America, Europe, China and Turkey, "says Barnade "We also took advantage of the possibility of meeting with international input
manufacturers, many of them already suppliers of Ascensores Cóndor, and also with new ones. In addition, we talked with several local installers, with whom we learned about certain market needs and demands that will be key to accord future business".
For his part, Sánchez stressed the importance of participating in meetings of this magnitude, "which allow not only to appreciate new trends and technologies but to discover where the market of the sector in Latin America is going to". From its point of view, the firm has "all the necessary potential to advance and expand in our target, in a huge country like Brazil. It is a broad market, with certain economic limitations today that, however, will be cleared in the medium term. We aspire to be direct suppliers, both by the proximity and by the specificities of our products in front of the multinational competition, affirmed the managing partner, who finally expressed his gratitude to the Argentine Chamber of Elevators (C.A.F.A.C.) present at San Pablo.
In Memoriam
Juan Luis Sánchez (Senior)
(1927-2018)
Our tribute to the memory of the founder of Ascensores Cóndor, which is summarized in the wisdom of a dream come true.
For Graciela Sánchez
Along his path, built of bonanzas and challenges faced with strength, and a look towards a prosperous future full of possibilities, with his head held high, with his mind full of ideas of a visionary man, ideas of a sustain growth, this simple and fighter country man developed his life, devoted to create a company worthy of himself, and he do it with responsibility and wit.
Thus, Juan Luis Sánchez shaped his life project with the decision that characterized him.
He started learning about elevators at Ascensores Ingeniero Guillemí S.R.L Company. But, in a leap towards his own development, he produced his own project with enthusiasm, perseverance, tenacity and a lot of effort. He found a place to settle his company and chose the name Ascensores Cóndor, that according to his own words "it
is a bird that flies high".
The love for his job, always with the support and care of his wife Olga, unconditional companion until his last breath, was the inheritance that he left to his children. He transmitted them his honesty, and the feeling of tranquilly that comes along with the task accomplished. That was his legacy.
In this way, an unforgettable imprint was recorded in the heart of his family and its usual employees, whose affection and regard he knew how to earn. He will live on the history of the elevator trade of Argentina, on his friends and suppliers that support him in difficult times, like Joan and Eduard Gomis and Eduard Amigo from
Fermator.
Good bye forever,
Dear dad!
——————
Photos crédito: Estudio Intermedia.